Outdoor Wooden Sensory Walk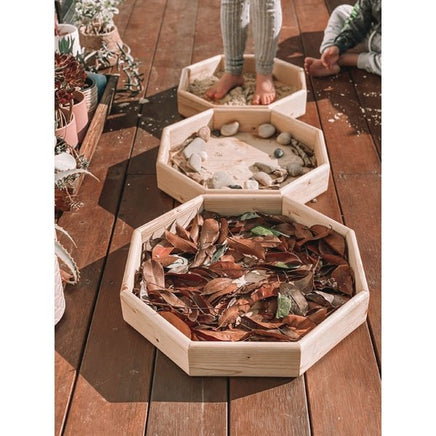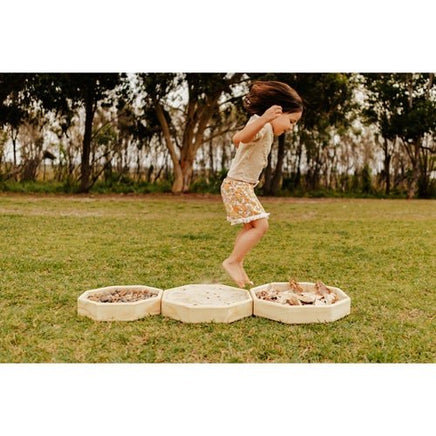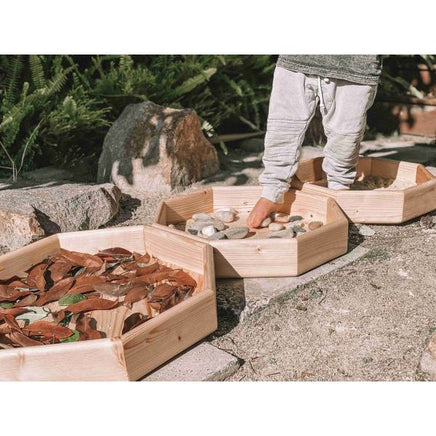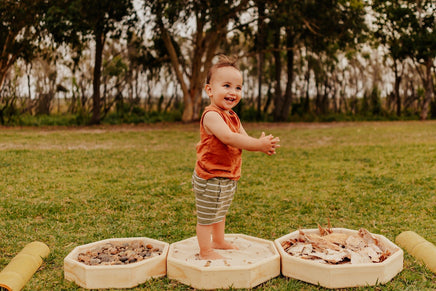 Outdoor Wooden Sensory Walk
Our new Outdoor Wooden Sensory Walk Balance set! These are extremely strong and have been lab tested to meet Australian Safety Standards. They are built to walk on, walk in and are SUPER STRONG! No short cuts have been taken in production and they have hidden inset joints and the highest grade glue that has also been lab tested. Made for children to experience wonderful barefoot natural sensory experiences to be used indoors our outside in the yard!
A unique, strong, safe outdoor play resource that allows children to experience endless natural sensory experiences for little feet and the whole body! The Wooden Sensory Walk / Balance set includes three wooden large octagonal shapes that can be filled with any natural texture imagined! The set can be walked in or children can sit inside and immerse themselves in natural textures. Fill them with sand, leaves, feathers, stones, water beads or anything that allows children to experience different textures! Much better than a plastic ball pit! This resource has been lab tested and meets Australian/New Zealand Standards AS/NZS 8124.1: 2019
The versatile outdoor wooden set can also be turned up the other way as the set is made to be used as an outdoor resource that children can balance and walk on, helping children to develop healthy gross motor co-ordination. The three octagonal wooden shapes can be set up in multiple configurations creating a variety of obstacle courses for little feet to explore! Children will use them for multiple play scenarios including making a stage set for dramatic play!
Set includes 3 wooden enclosures:-
| | |
| --- | --- |
| WEIGHT | 3 kg |
| DIMENSIONS | 40 × 30 × 11 cm |
Natural sensory products not included.